The U.S. Department of Energy (DOE) SunShot Initiative programs investigate solutions to make the solar energy resources in the United States more affordable and accessible for Americans.
Echogen has been awarded a $1M grant by SunShot to develop a novel solar thermal energy storage and power system. The system will utilize a chemical process to store solar energy collected during the day. The Echogen power cycle, which uses supercritical carbon dioxide (sCO2) as the working fluid, will then convert the stored energy into electricity that can be generated at all hours - even at night.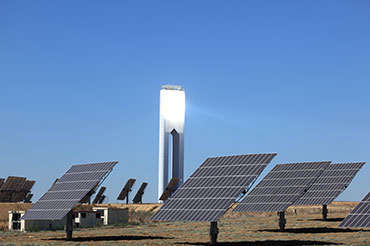 How does solar thermal power work?
Large areas of sunlight are directed to small reflective panels called solar thermal collectors that absorb the light.
The light is transferred from the panels to a solar receiver that converts it into heat.
The heat drives a heat engine that is connected to a generator and produces power.