We are a motivated group of people who are working to bring our advanced waste heat to power solution to market.
Every member of the Echogen team plays an instrumental role in defining who we are and in shaping what we will become. Being a part of Echogen's team and pursuing its mission enables you to impact the future of energy and power generation, and the world we live in. Sure, it will be a challenge. Are you up for it? To learn more, contact careers@echogen.com.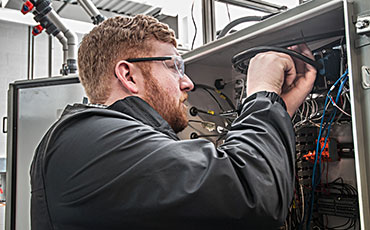 Explore our current full-time job opportunities
Systems Engineer

Duties:
Leads the design of next generation thermodynamic cycles in support of R&D and production engineering efforts. Analysis of various extensions of Echogen heat engine technologies and their direct coupling to numerous applications such as solar-power, waste heat recovery, nuclear, as well as primary cycles for fossil fuel power plants. Research, design, model, test, evaluate, install, operate, and maintain mechanical products and Echogen equipment, systems and processes within the power generation industry; confer with other engineers and other personnel to implement operating procedures, resolve system malfunctions, and provide technical information; and investigate equipment failures or difficulties to diagnose faulty operation and recommend remedial actions using Matlab/Simulink, GT-SUITE, Excel/VBA, AIMEsim (or equivalent) and other process modeling tools related to HVAC/refrigeration, high pressure fluid systems, or other complex engineered products that produce power or work in Supercritical CO2 (sCO2) Power Cycle Systems.

Requirements:
Requires Master of Science in Mechanical Engineering and at least two years of relevant professional experience working in the same or similar position. Requires two years of hands-on working experience with power generation equipment as well as two years working with each of the following tools on sCO2 Power Cycle or Organic Rankine Cycle Systems: Matlab/Simulink, GT-SUITE, Excel/VBA, AIMEsim, and process modeling tools.
Echogen will provide equal employment opportunity without regard to race, color, sex, age, disability, religion, national origin, marital status, ancestry, status as a veteran or for any other category protected by applicable federal or state laws.