The Echogen ETES system offers very low cost of incremental energy storage, plus other tangible economic benefits.
Capital and operating costs
Capital and operating costs estimated for large scale ETES systems are founded on scale up of commercial equipment, as the ETES system makes use of current technology for all major components.
ETES capital cost and levelized cost of storage (LCOS) compares very favorably versus li-ion battery systems, withincreasing advantage as storage time increases above 6 hours. Costs have been projected for both technologies forward to 2030, on the following assumed basis: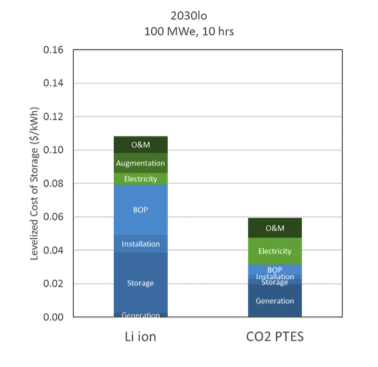 Lithium ion – storage pack capital cost drops to $73/kWh with a large reduction in generation and BOP costs from today's costs, at the low range based on published literature
ETES – storage costs based on sand/salt storage materials and a reduction in balance of system costs based on commercial production volumes
The value proposition for ETES is compelling:
ETES offers very low and declining capital cost at longer durations
ETES retains a 40-50% LCOS advantage into the 2030 time-frame
Environmentally friendly
Echogen ETES sand and concrete storage materials are relatively benign to operate and dispose of. This is a contrast to the many metal chemistries of fixed and flow electrolyte batteries, as well as more exotic storage materials of other ETES systems. Thus, the Echogen ETES system maintains a low environmental footprint through its value chain.
Thermal integration
Commercial and industrial applications such as microgrids may also take advantage of thermal integration with the ETES system. On a case-by-case basis, the ability to deliver heating/cooling or make use of waste heat provides opportunity to lower energy costs, eliminate equipment costs for back-up power and/or increase efficiency of the ETES system.