Our founders came together with a common goal: to capture lost heat and transform it into energy that would improve global sustainability and provide consumers with a source of low-cost, emission-free electricity.
Our passion for innovation has already made us a leader in our field. Today, we are a proud provider of an advanced waste heat recovery system that uses CO2 as its working fluid, the first of its kind to provide at a commercial scale, allowing for a more compact, lighter and economical solution. We offer an engine that is one of the most cost-effective in the industry.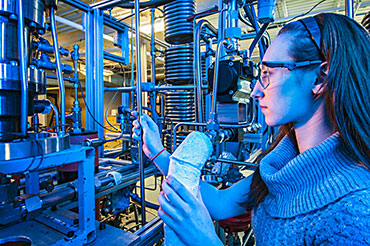 Company Timeline
Taking a pragmatic approach to energy since 2007.
2007

Echogen Power Systems is founded to develop an improved waste heat recovery system
Our first prototype (5 kW) is completed with an absorption heat pump using carbon dioxide and a preferred secondary fluid

2008

A second prototype (15 kW) is designed to operate with liquid CO2

2009

A nominal 200 kW demonstration unit was designed and built

2010

The demonstration unit is tested at American Electric Power in Columbus, Ohio.

2011

Partnership and licensing with Dresser-Rand is established to focus on turbomachinery development and commercialization

2012

Fabrication of our EPS100 is completed (nominal 7.5MW). Testing begins at Dresser-Rand facility in Olean, NY

2013

Partnership with GE Marine is established, tailoring our engines for shipboard applications