Today's military and commercial marine vessels require powerful engines with high efficiency and minimal environmental impact. Volatile oil prices, increasingly stringent emissions regulations, and the constant pressure to lower operating costs, all point to the need for reduced fuel consumption. Conservation alone isn't enough; a higher efficiency solution is essential to achieve the required reduction.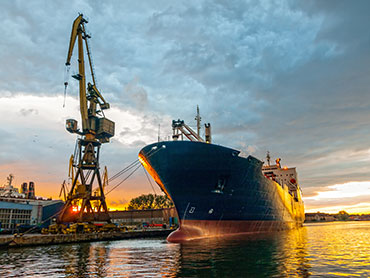 The Echogen system can fulfill several different shipboard energy requirements:
Use waste heat from engines to produce electricity for onboard service power
Use waste heat to increase shaft power by gearing the Echogen engine into a propulsion shaft
Use the system as part of the onboard integrated power system (IPS) to function as an additional generator with no fuel consumption or emissions
Research with Navy SBIR
In 2009, The U.S. Navy established aggressive fuel reduction goals for its surface fleet. Through the Small Business Innovation Research (SBIR) Program, the Navy challenged businesses to offer a proposal that would achieve these goals, and Echogen answered the call.
In 2011 Echogen was awarded SBIR Phase I funding to demonstrate the use of our heat engine technology to improve efficiency and reduce specific fuel consumption for marine gas turbine prime movers and power generation modules.
Echogen's follow-on research in Phase II will focus on improved conceptual design and advanced heat-exchanger development and testing.
Commercialization with GE Marine
Our success with the Navy SBIR research paved the way to our current partnership with GE Marine. With GE Marine's support, Echogen is adapting our waste heat system for shipboard installations. By taking advantage of our technologies, GE Marine can improve upon their diverse portfolio of solutions with increased engine power output, reduced fuel consumption, and reduced overall emissions.