The Echogen Electro-thermal Energy Storage (ETES) system provides an economic, independent, reliable, long-life, electrical energy storage system.
Electro-thermal energy storage (ETES) offers key advantages:
Low capital cost, no battery replacement and recycle costs, and higher projected reliability versus the incumbent battery offering
Low environmental impact versus batteries and other new storage technologies
Smaller footprint than today's battery systems at large sizes
ETES is a natural extension of Echogen's $85 million investment in water-free, sCO2 power cycles, offering a faster path to commercialization than other technologies
The ETES system uses a thermodynamic cycle that transforms energy between electricity and heat: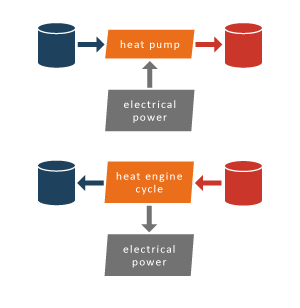 Charging cycle
Heat pump (refrigeration) cycle
Uses electrical power to move heat from a cold reservoir to a hot reservoir
Creates stored energy as both "heat" and "cold"
Generating cycle
Heat engine (power) cycle
Uses heat stored in hot reservoir to generate electrical power
"Cold" energy improves performance of heat engine
CO2 is the best fluid for ETES, offering high performance, low cost and low impact: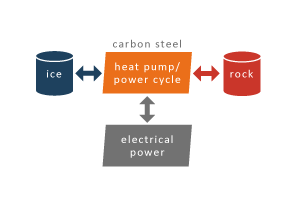 Charging: CO 2 is one of the first heat pump fluids ever used (charging cycle), and condenses near 0°C
Generating: CO 2 power cycles are commercially available today
CO 2 properties allow for high round-trip efficiency (> 60%) while using low-cost materials
Other fluids (air, helium, argon) require larger temperature extremes (<-50°C to >500°C), more expensive materials (molten salts, stainless steel)
Echogen is executing a $3M contract to ARPA-E to design and build a proof-of concept kW scale ETES system, employing low cost high temperature storage materials such as concrete and moving/fluidized bed of sand. In parallel, efforts are underway to identify partners and a host site for a 10MW demonstration, using the already proven EPS 100 CO 2 engine.