The U.S. Department of Energy (DOE) SunShot Initiative programs investigate solutions to make the solar energy resources in the United States more affordable and accessible for Americans.
Echogen has been awarded monies by SunShot to develop a prototype power turbine that uses supercritical carbon dioxide (sCO2) as the working fluid for concentrated solar power (CSP) applications.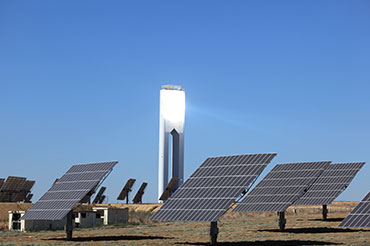 How does concentrated solar power work?
Large areas of sunlight are directed to small reflective panels called solar thermal collectors that absorb the light.
The light is transferred from the panels to a solar receiver that converts it into heat.
The heat drives a heat engine that is connected to a generator and produces power.
Our team will design, fabricate and validate a 10MW power turbine that can achieve power block efficiencies greater than 50% in commercial CSP applications, satisfying SunShot goals and expanding Echogen's solution offering.
Program Phases
Phase 1

Materials selection
Turbine & test loop detailed design

Phase 2

Test loop fabrication
Installation at Sandia host site

Phase 3

High-temperature performance map
Simulation model of commercial design